Just Wheel Repair offer expert mobile alloy wheel repair and refurbishment services throughout the county of Essex from Sudbury to Grays and everywhere in between. If you'd rather come to us, our refurbishment workshop is based in Halstead in Essex for you to visit in person or if you require a specialist finish such as diamond cutting.
Our services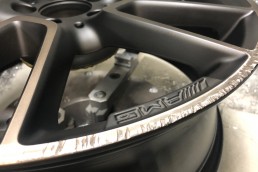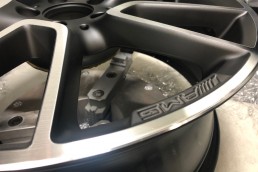 Our standard painted mobile alloy wheel refurbishment service involves refurbishing, rejuvenating and painting scratched, kerbed or corroded alloy wheels. Bringing them back to showroom/factory finish standards and painted in the colour of your choice.
Our alloy wheel diamond cutting refurbishment service, involves us refinishing your alloy wheels on a specialist alloy wheel cnc lathe machine. Watch the video below, to see for yourself the beautiful effect that a professional diamond cut finish can have on your alloy wheels.
Our bespoke painted mobile alloy wheel refurbishment service can offer you the totally original alloy wheel finish you've been looking for. Whether it's an exact colour match to your cars colour code, or something completely unique, we can do it all for you and do it professionally.
Are you looking for a company to provide you with the best priced alloy wheel polishing service? Our prices may well be cheap and the lowest you will find, but the service and finish you get with our mobile alloy wheel polishing service, is one of the best money can buy.
So you've been planning on having your alloy wheels powder coated and you've been searching the internet for the cheapest priced powder coating refurbishment company. Well you've found it, with Just Wheel Repair the Uk's number one mobile alloy wheel refurbishment company and our alloy wheel powder coat service.
The mobile split rim alloy wheel refurbishment service that we offer, really can bring your split rim alloy wheels back to life. Regardless of how old, or badly kerbed they are, we can refurbish them for you and make them look new again.
When we work on alloy wheels that are heavily corroded or have flaky paint, powder coatings, or a previous diamond cut finish, we always chemical strip them. We place them into an alloy wheel chemical bath to strip and remove all of these contaminants that would ruin the finish, without damaging or scouring the alloy rim itself.
You can also visit Just Wheel Repair in our workshop branch based in Halstead Essex, here we offer more bespoke alloy wheel finishes and a tyre repair or replacement service. Our address is Just Wheel Repair, 26A First Avenue, Bluebridge Industrial Estate, Halstead, Essex, C09 2EX