Our alloy wheel diamond cutting refurbishment service, involves us refinishing your alloy wheels on a specialist alloy wheel cnc lathe machine. Watch the video below, to see for yourself the beautiful effect that a professional diamond cut finish can have on your alloy wheels.
The surface layer of the wheel is cut and removed from the wheel, revealing the natural aluminium shine and the lines from the cnc lathe. Then the alloy wheel is protected with a lacquer coat to ensure the finish lasts and your wheels stay looking beautiful.
It's relatively easy to spot if you have diamond cut wheels, as you can see in the picture below, the face looks very shiny like bare alloy with very faint lines under the lacquer, often having a different colour on the insides of the spokes.
Stunning Diamond Cut Wheels
Don't give up on your badly damaged diamond cut alloy wheels yet, as you can see from the pictures below, we are masters in the art of diamond cut wheel refurbishment and repair. Don't just take our word for it, you can see the amazing restoration work we carried out this customers diamond cut AMG alloy wheels.
Your alloy wheels don't need to be diamond cut from new to be able to have them refurbished in this way, we can diamond cut almost any alloy wheel.
We Can Repair Damaged Diamond Cut Wheels As Well
Diamond cutting is normally reserved for the high end marques and supercars, with our new in house service and low prices we can offer this finish to anyone. Time to make your car really stand out!
No longer is this the finish for the expensive cars alone, anyone can afford to have the beautiful lines and shine that diamond cut offers. With our in house machine we can offer this service for a fraction more than an ordinary painted wheel and you can see from the pictures just what a difference it makes to your alloys.
To find out exactly what we do during the alloy wheel diamond cutting refurbishment process, we've detailed the steps we take below so you know exactly what to expect from Just Wheel Repair.
Our van arrives at a time and place convenient for you
The car is then lifted up to gain access to your alloy wheels
The damaged alloy wheel is then removed from your car and the spare wheel (If you have one) is replaced
If we are repairing all four alloy wheels then the vehicle is placed on secure axel stands whilst we refurbish them.
The tyres are carefully removed to enable us to gain access to the entire alloy rim.
They are then acid dipped to remove all imperfections and contaminants.
They are then neutralised in a water tank to remove any excess acid from the alloy
If they are damaged, dented or badly kerbed the wheels are repaired using various sanding, filling or buckle repair techniques
The wheels are then baked to 200c before they are powder coated using the latest in powder-coating technology.
Your alloy wheels are then heated for another 30 mins and left to cool down
Once the wheels have cooled they are then put into the computer numerical control (CNC) machine and diamond cut to a perfect finish
Once this process has finished your freshly diamond cut wheels are then powder lacquered and baked for a further 30 mins.
The refurbished diamond cut wheels are then left to cool
The tyres are then fitted and the wheels re-balanced.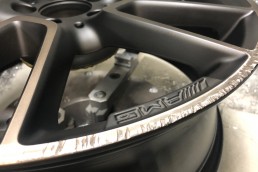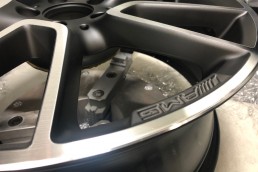 Your alloy wheels are now looking like new again
All we need now is confirmation that you are happy with the alloy wheel refurbishment and the process is complete, payment is then made by Visa, Cheque or PayPal and you are ready to drive away on a set of "good as new" alloy wheels.
Along with your invoice, we offer a full guarantee on all alloy wheel repairs and refurbishments carried out by us.
If you would like your car wheels to be treated to an alloy wheel refurbishment or repair, contact us, call 0333 207 9971 or 07515 399 809.